Description
Financing Available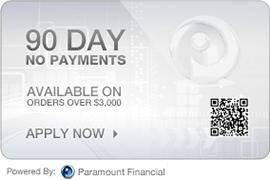 Product Features:
Double your Production Output with Dual Nozzle Duplication Mode
Create Functional Prototypes With A Wide Range of Materials: ABS, PLA, PETG, ASA, PC-ABS. Flexible Materials, and More
Faster Part Removal With Our Removable and Flexible Build Plate
Save Space and Easily Scale Up Production With Our Wall-Mount System
Costumer Ready Parts Right Off the Print Bed with High Resolution and High Precision Printing
Professional Support and Remote Technician Services
Comprehensive 1 Year Warranty Included and Extended Warranties Available
Protect your Bottom Line with Downtime Coverage During Warranty Period
This System Includes:
1x Build Plate
2x 0.4mm Nozzles
2x PTFE Filament Guide Tubes
1x Tool Box*
1x Spare Parts Pack**
1 year warranty
*Tool Box includes: SD/USB Card, USB Cable, Power Cable, Precision-control Nut Driver, Precision-control Screwdriver, Filament Feeder Gear Cleaning Brush, Lubricant, Glue stick, 2 Palette Knifes for part removal.
**Spare Part Pack includes: 1x Filament Guide Tube, 1x 0.4mm Nozzle, 2x Quick Connector, 1x Build Surface Sheet
Technical Information:
BUILD VOLUME: 200 x 240 x 200 mm
Z-AXIS LAYER RESOLUTION: 10 Micron
X-Y PRECISION: 10 Micron
HEATED BED TEMP: 120 °C
NOZZLE TEMP: 275 °C
OVERALL DIMENSIONS: 16.1″ x 13″ x 17.7″
CONNECTIVITY: SD Card, USB
SOFTWARE: Simplify3D, MatterControl, Cura*
*MAKEiT printers are not officially supported by Cura and we cannot guarantee all features will be compatible.